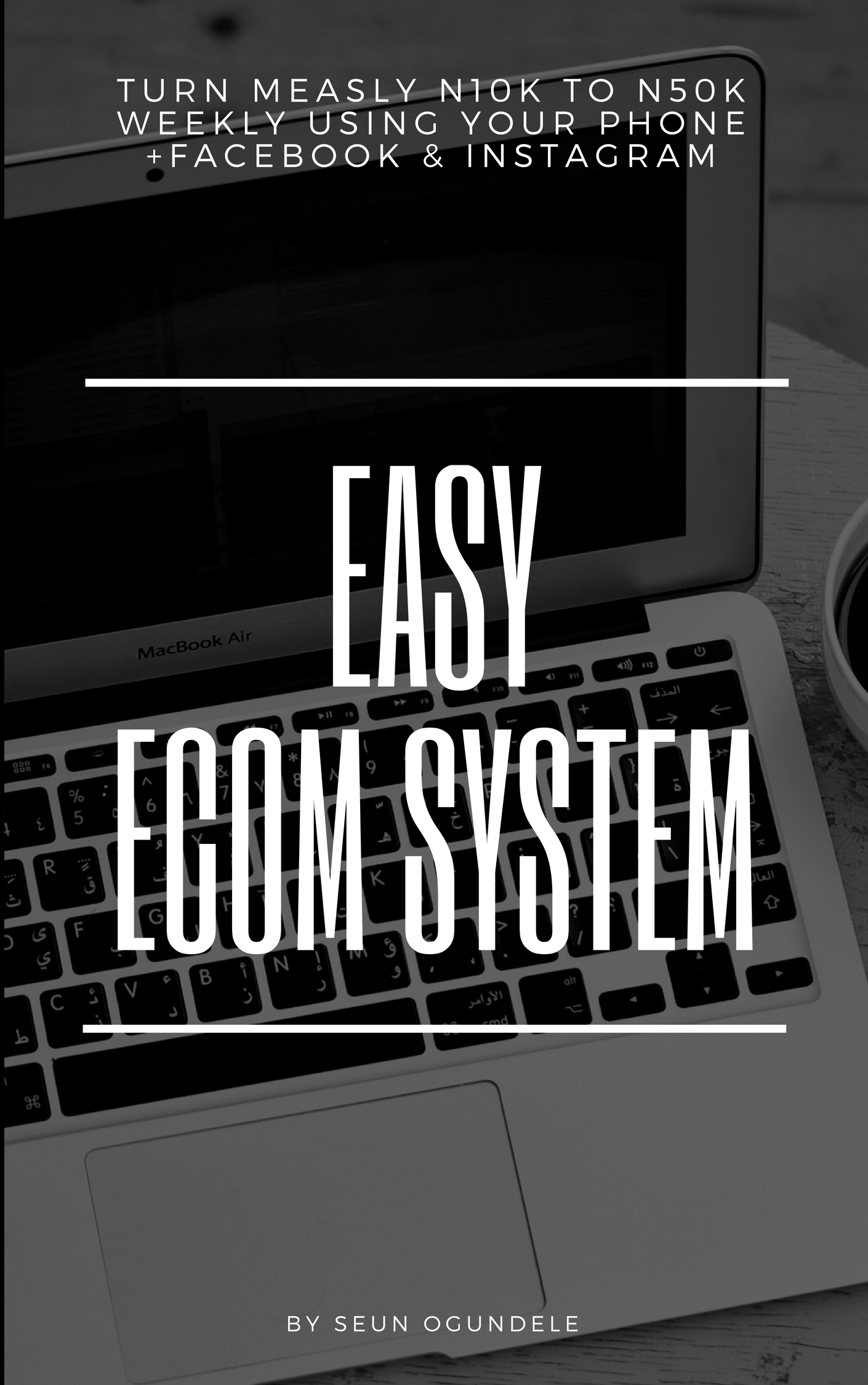 Easy Ecom System


"7 Days Presale Offer"

Expires In....
If You Have An Internet Enabled Phone With Facebook & Instagram...Then In 10-14 Days...

You Too Can Pull In

N50,000 to N100,000

Each Time You Run Our Easy Ecom System With N20k Capital,No Website,No Calls Using Just Your Mobile Phone,Gmail, Facebook & Instagram Account...


YES! I'm ready to STOP missing out on the easy ecom income I deserve! I'm excited to start making N50k to N100k Weekly without any hassles! Give me the Easy Ecom Sytem...so I can start making steady income from ecom business using just my mobile phone and gmail account. I understand with Easy Ecom System I only need 2 hrs daily, my phone, Facebook & Instagram Account with N20k Capital and I WON'T be required Pay for Domain name & hosting, Design websites or be tied to my phone all day long.
Here is What You're Getting: Access to Easy Ecom System Do-it-Yourself Step by Step Video Course that shows you exactly how to profits N50k to N100k weekly with Just your Internet enabled Phone, Gmail & Facebook Account.

In this 6 Modules Video Training, You will....
Getting started today even if you have zero experience and you're a complete newbie with just your mobile phone, Facebook & N10k to N20k Capital.

5 Underground Secret website we use for discovering hottest selling eCom products that are killing it right now. I bet you have never heard of number 4 & 5 sources before!

How to source for these hot products right here in Nigeria or import then for as low as $0.8 - $1 per piece and sell for N10,000 to N15,000 per piece...Over 5000% profit!

Access to my Secret Agent that gets your product at 10x cheaper price than aliexpress while paying her in Naira, so no need to source for dollar or paypal.

How To Easily order for products on Amazon and Ebay without any shipping hassles using your naira ATM Card.

Discover a totally unique way to combine Facebook + a secret FREE Gmail product to skyrocket your income from ecommerce that gaurantee you will never need to setup a website for your easy ecom business.

Discover How to setup profitable Facebook & Instagram ads + that get tons of sales for you within 24 hours of setting up the ads.

Discover How To Sell Off your Products In a matter of days using my Facebook Group Strategy & Instagram shoutout.....I kid you not no ecom owner is using this secret at the moment, so get on board and see how your sales soar high.

How to generate more sales from upsells using email marketing strategy.




And also how to scale up to your first Million from Easy Ecom using my RNR Strategy.
Easy Ecom System PRESALE Bonuses:

BONUS 1 - Easy Peasy Ecom (Value N14,000)
Kal teaches you everything you need to know, step-by-step, to get started making money with this method.
You'll learn:
The exact platform he uses to earn at least $650/week
His exact strategy for posting and earning
How to get setup on the platform yourself
How to get started posting (and earning)
Essential tips for earning and succeeding
How to avoid issues that will slow you down
and more.
BONUS 2 - Alpha Dropshipping Training (Value N10,000)
$100 per day drop ship challenge.
Learn exactly how to make $100+ profit per day from someone that has done it consistently.
8 video modules
4 detailed pdf guides
BONUS 3 - Dropshipping Titans ( Value N150,000)
Learn my proven step-by-step system that earns me $15,000 a month in profit on eBay from anywhere in the world with no inventory.
The most comprehensive eBay dropshipping training course available.
18 modules that walk you step-by-step through how to setup, run and scale your very own eBay dropshipping store.
BONUS 4 - FB Video Ad Control (Value N25,000)
Easily crank out hot video FB ads that bring endless amounts of targeted traffic and insane profits every single day on complete autopilot.
Create your high converting FB video ads.
2. Generate insane highly converting traffic.
3. Get more leads, exposure and make more money.
Bonus 5 - Facebook Ads Training Guide (Value N10,000)
This step-by-step training guide will take you by the hand and teach how to easily zero in on the type of people you're looking for and target them by location, demographics, and interests.
Turn visitors into leads and high paying customers
Target specific audiences that fit your demographics
Build highly targeted lists of buy-ready prospects
Easily track performance of your marketing campaign and get higher ROI
Reduce your marketing expenses considerably
Get people hooked to your brand for longer durations
Presale Price & Bonuses Are Strictly Limited To The First 100 Easy Ecom System Buyers or When Timer Expires...

OPTION #1:
Bank Deposit, Internet/ATM Transfer/Mobile Money etc

STEP 1: Make a deposit/transfer ofN15,000 into;
Bank: Zenith Bank PLC
Account Name: Fastplus Business Innovation
Account No: 1014819749

STEP 2: After payment, send an email With Subject Paid4EasyEcom, YOUR NAME, EMAIL ADDRESS, PHONE NUMBER and Date of payment to [email protected]

As soon as we confirm your payment, you'll hear from us within 3 hours.
OPTION #2:
SECURED ATM Card Payment

Works Anytime, Even At 12 Midnight. Secure Order Form - 100% Protected Safe & CBN Approved. You Get Access INSTANTLY. No Waiting Whatsoever!


Upon successful payment, you'll be redirected to the members area. No waiting whatsoever.
What's more important to you right now, spending N15,000 on movies, Hangout or short term pleasure that will loose value and you will never remember OR In 10 -14 days from now,you feel comfortable & happy because you're making decent income from the N15k Investment in Easy Ecom System?
The Choise is yours, But I will advice you to pick up the Easy Ecom System at this ridiculous Presale Price before it jump to N25,000.
Cheers,
Seun